Tagua Multi-Colored Slice Earrings
---
Low stock - 6 items left

Inventory on the way
---
Our Tagua Multi-Colored Slices and beads are dyed with a natural dye then drilled and strung to make these unique earrings. They are bright and bold to make you stand out in a crowd. People will ask what they are made from, where they come from and who made them. You can read more about tagua in the story below.
Earrings Measure - 2-3/4'' long x 1-1/2'' wide
Stainless Steel Hook
Natural Dye
Handmade in Peru and fair trade imported.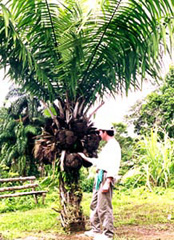 Tagua, also known as vegetable ivory, is a seed from an endangered palm tree that is found in tropical rainforests located along the Pacific coast of South America. Apart from being a renewable and natural resource, tagua shares many similar traits as elephant ivory, hence its name vegetable ivory. Colombia is second only to Ecuador in the production and exporting of tagua nuts.  
These seeds grow in pods called cabezas, when ripe, these cabezas fall to the ground. The pure cellulose, milky substance inside is edible in liquid or semi-liquid (jello-like) form by both people and animals. It is high in protein and sold in fruit-stands along roadsides.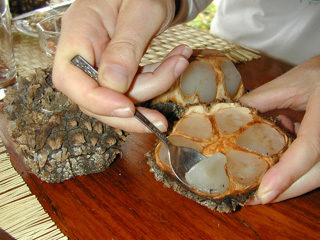 The nuts are collected and sundried for 4-8 weeks before being processed. The circular grain of the tagua seeds makes it denser and more resilient than animal ivory, and an ideal medium for creating beautiful pieces of jewelry and other unique items.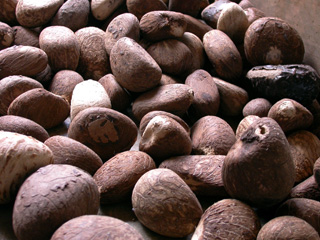 The steps involved in processing a tagua nut include, cutting, polishing, carving and dyeing. The sundried nuts are cut / sliced into shapes as required for the jewelry. Any cracks or voids in the nut are filled with white glue. Then the tagua pieces are sanded and polished with a high-grit buffing compound. Holes are drilled into the surface to enable stringing for necklaces and bracelets.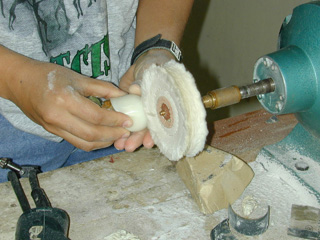 Tagua can be dyed in various ways. The natural shades of rich browns and yellow are achieved by boiling/burning the nut in hot oil. The length of boiling time determines the depth of the hue. Fermenting unpeeled tagua in the rain is another alternative to achieving brown hues in nut. Colored Tagua is achieved by boiling the nut in water that contains either plant-based or commercial dyes.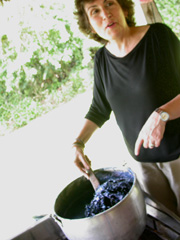 Dependence on the tagua harvest encourages local artisans to protect and conserve the rain forest. In some indigenous cultures each member of a clan would be given a tagua nut to wear around their neck, believing that the wearer of the nut would be protected by the love of his family and friends.  
Aptec Peru Artisan StoryPeru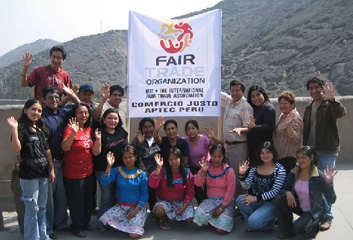 Aptec Peru is an artisan collective located near Lima, Peru. The organization is a community of 16 family workshops that employs about 140 individuals from low-income areas. The extensive skills of the artisans are seen through the range of products they create, including ceramics, jewelry, textiles, stained glass and woodwork.
Besides helping preserve a culture rich in tradition, the collective helps artisan producers better design and create high quality crafts, enjoy increased sales and earn a steady income. As a member of the International Fair Trade Assocation, APTEC Peru ensures artisans are paid fairly for their work, which creates a sustainable working environment for artisans, their families and communities.
Since 2007, AptecPeru is part of the World Fair Trade Organization (
WFTO
) and the Regional Office for Latin America (
WFTO-LA
), demonstrating our commitment to social and environmental responsibility in all its processes. Also, we are members of the Fair Trade Movement in Peru that works in the promotion and development of new technology for the environment and nature preservation´s activities.
Their mission
APTECPERU looks forward to promote and develop Peruvian handcrafts aiming to improve artisans producers' life standards and security through a fair trade and better trade conditions. Also looks that the production processes are respectful with the environment and the ecology.
Their vision
Be a leader organization in the development and commercialization of Peruvian handcrafts and satisfy the life standards of their members.
The artisan families that work with Aptec Peru are also invested in the care and maintenance of their natural resources. Their products are made of natural raw materials such as clay, dried gourds, recycled glass and plant dyes. In addition, the artisans take care to harvest all materials in a sustainable manner, to replenish plant life and maintain water quality. As part of the World Day of the Fair Trade project, the artisans crafted porous ceramic pots that were filled with plants and donated them to 400 families in the village of Nuevo Ayacucho, providing clean air for the community.
Aptec Peru's artisans take great pride in their intricate textiles, beautiful ceramic pots and vases, silver jewelry and creative gourd decorations. In turn, these crafts, and loyal buyers like yourselves, help the artisans create a sustainable income and future.