Set of 5 Neem Wood Pencils
---
In stock, ready to ship

Inventory on the way
---
Neem pencils are a unique concept developed by Mr. Sunil Gupta, a supporter of the children and youth at Lakshya' s shelter home. Mr. Gupta has trained several youth from Lakshya who work at his center to create these natural pencils. Discarded neem twigs are used for these pencils, and no trees are harmed in the making of this product. Available in regular graphite and colored options. Great gift for children and artists in the making!!
These special pencils are made by youth at Lakshya shelter home in Faridabad, India. Lakshya primarily supports children and youth who have run away from their homes. Lakshya, sends the younger children to local schooling facilities, and the youth are given vocational training to help earn a living and support themselves. Buy these unique products and support Lakshya's objective of providing better facilities to these children.
Each pencil measures 7" in length, diameter varies
Available in a bundle of five pencils
Handmade in India and Fair Trade imported.
Lakshya Artisan Story
India
Lakshya, is a child and youth rehabilitation center located in a small village Bhatola, Faridabad, a few miles from Delhi. Lakshya was founded in 2004 by two brothers, Rajeev and Umesh; they started by training a few village women in making newspaper bags. The village women grew from 8 to 150 over the years, and today make newspaper and other paper packaging bags which are supplied to several stores in India.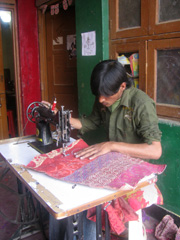 Rajeev and Umesh were part of a larger youth rehabilitaion programe, Karm Marg in New-Delhi. They began their own initiative by the name of "Lakshya", meaning goal. With the support of the Salam Balak Trust, a well known children and youth rehabilitation center, Lakshya currently runs a center in the village. Many youth and children, who have either runaway from homes or orphaned are found at public places such as railway stations and bus stands. Lakshya's network of people, who closely monitor these locations and keep a regular contact with the local police, bring these youth and children to the shelter. In some cases, parents or relatives are contacted and the children are sent back, in other cases they stay at the shelter for sometime and escape again, while some stay on. Currently, Lakshya supports a mixed group of 25 youth and children in the age group of 7-25 years.
At Lakshya, younger children in the age group of 7-16 years are sent to local schooling facilities. Due to limited funds, the organization has not been able to sponser children for further education. So, the youth learm several vocational skills which will help them to earn a living in the future. 5-6 youth are trained in making patchwork bags and other accessories such as, diary covers, wallets, purses and belts. Other vocational trainings include administrative jobs, cooking & catering, auto mechanics etc. Lakshya sells the handmade bags and other products made by these youth at the shelter through exhibitions and a few stores across India. The organization hopes to rescue and rehabilitate more children and youth who have runaway from their homes, and is constatntly trying to provide them with a more meaningful way to live.