---
In stock, ready to ship

Inventory on the way
---
Stylish and practical, this fish soap dish is made from coconut, and looks great in any bathroom. And it is tied to two small sticks that serve as its base and keep it from swimming away.
Soap dishes aren't just for decoration; using a soap dish improves the life of your soap by allowing water to drain away and the soap to dry between uses.
Fish soap dish Measures - 1 5/8" high x 5 1/4" wide x 4 7/8" deep
Handmade in the Philippines and Fair Trade imported.
Lolo Bobby Artisan Story
Philippines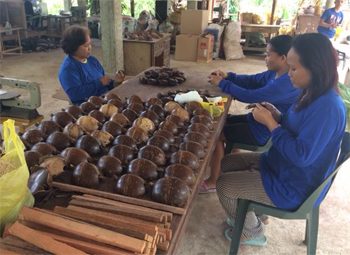 Lolo Bobby is located in the Bagongbayan Bat Leyte Visayas Region of the Philippines; near the coast. The artisans include both men and women who have been with the company since its inception; nearly 10 years. The artisans comprise both family groups and individuals ranging between 25 and 55 years of age.
Lolo Bobby has grown to become the major source of income for these artisans, their families, and for the community. Some of the artisans work in the factory producing products, but others work in their homes; especially women who are caring for their children.
Lolo Bobby operates according to Fair Trade principles; encouraging their artisans to participate in decision making in the workplace with regards to production decisions, management, and pay issues. Their objective is to ensure the safety and productivity of their artisans by providing them with their needs, safe equipment, materials, and technical training. The company also provides shelter for some of the artisans who would not otherwise have it.
To help the environment, Lolo Bobby has been planting coconut trees which not only helps them to sustain production, but to protect the environment as well.
Purchasing these products is a great benefit to the artisans as this is their major source of income. Through selling these handcrafts they are able to give their children a good education and provide their families with their basic needs.