Bird Junkyard Sculpture - recycled
---
In stock, ready to ship

Inventory on the way
---
Just in time for spring when all critters wake from a long winter. The birds are chirping, this little one will not chirp but it will put a smile on anyones face. Your friend will love this bird sculpture made from recycled bicycle chain.
This Junkyard Bird is a unique upcycled adornment that your friends and family will talk about. Besides making an attractive decoration for the home or office it shows that to Upcycle is a beautiful thing.
Measures 4.5" high x 4" long  x 2.25" deep
Handmade in India and fair trade imported.
Noah's Ark Artisan Story
India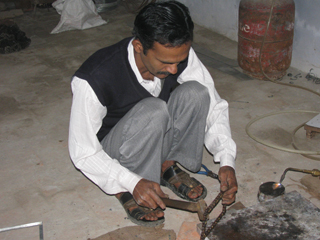 Kamrool Hassan is a metal artisan from Moradabad, a city located in northern India. He has been associated with Noah's Ark for more than 15 years. Belonging to a traditional metal workers family, Kamrool began his professional career making metal gates, raillings and window grills for homes. For generations, his ancestors belonged to the metal smith community and were known to have made brass and copper utensils for the Mughal royal families. Moradabad is the metal center of the country and it is known for its production of brass and metal artifacts. Noah's Ark works with several artisans in and around Moradabad, who produce unique products that cater to both domestic and international markets.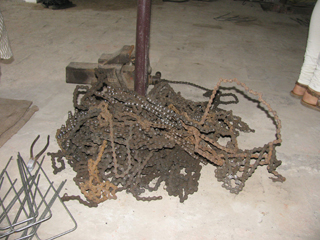 Kamrool has a small workshop that provides sustainable income for 5 other artisans; each is engaged in the process of sorting, breaking and soldering the chains. Noah's Ark supported Kamrool in putting together a workshop for his metal work. The workshop has most of the required amenities except for the final finishing, which is carried out at another facility. Kamrool and his group of artisans are skilled in making beautiful picture frames, tea-light holders, bowls and other accessories with discarded bicycle chains. This collection is unique and gives a new meaning to discarded scrap metal.
The artisans require a sustainable supply of discarded bicycle chains to produce their work; usually these are sourced from the local scrap metal market. At times when the orders are large, they need to purchase the recycled chains from other cities, such as Delhi. Once the metal chains are acquired, they are sorted by size and straightend. Then they are sectioned according to the size or length required for a particular product. The sections of chain are placed on a metal frame or a dye, to insure consistency in the shape and size of each product, and soldered together. After the products are shaped, they are ready for a final finish; the metal is cleaned and rust and other impurities removed. The item is then polished or powder coated as required. Finally, the recycled chain products are ready to be sent to the warehouse for packaging and shipping.