Soapstone Turtle Tealight Holder
---
In stock, ready to ship

Inventory on the way
---
This beautiful Haitian soapstone turtle tealight holder makes a lovely addition to your tealight collection. This tealight holder was handcarved by a Haitian artisan who worked very hard at carving and sanding it to get the perfect design
Tealight Holder Measures - 1'' high x 2-1/8'' wide x 3-3/8'' deep
Handmade in Haiti and Fair Trade imported.
Artisan Business Network
Empowering Haiti's Artisan Culture to Improve Community Wellbeing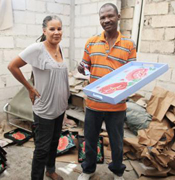 Haiti is often considered the poorest nation in the Western Hemisphere. Haitian artisans live in a country where the political climate and hardships imposed by economic embargos and sanctions in the 1990's have contributed to poverty and accelerated environmental degradation. Health care and education are unobtainable dreams for the impoverished 75-80% majority. The average income is $55. per month. Only 40% of the population has access to potable drinking water and 25% have access to sanitary sewage systems. Infant mortality is over 7%, malnutrition is a common ailment, and almost half of the population is illiterate.
Despite this adversity there is hope. The Artisan Business Network (ABN) empowers Haitians with entrepreneurial tools, design input, and market access. The ABN is making essential improvements the earnings or artisans, helping them to provide for their families and community wellbeing through commerce based in Haiti's profound artisanal culture.
ABN strives to empower Haiti's artisan culture in order to improve community well-being. They have three depots located in Jacmel, Port-au-Prince and Croix-des-Bouquets and support the traditional arts in several mediums including: metal crafts, soapstone, paper mache, and plant fibers.
Talented Haitians are ready and eager to recapture the losses brought about by the economic trade embargo of the 1990's, subsequent internal political deadlock, and the devastation of the January 2010 earthquake. Because of the efforts of ABN, and their ability to connect artisan handcrafts with the international market, many artisans are now able to better care for themselves and their families.