Tribal Soapstone Tealight Holder
---
In stock, ready to ship

Inventory on the way
---
Tea lights are a great way to add accent light to an indoor or outdoor space. These natural soapstone tea lights, hand-painted with tribal African motifs add a chic look to the product. Soapstone is a naturally occurring metamorphic rock, which is soft and malleable, easy to hand-carved into desired shapes and forms.
Soapstone carving is a signature craft of artisans at Salom Enterprise in Kenya, apart from which they also make jewelry and hand-woven baskets. Salom Enterprise was established in 1994, and today works with over 800 artisans. Salom has made a great impact on the artisan communities in the region, by providing them with a consistent source of income, and investing in other facilities such as schools, health care and water harvesting systems.
Measure 1-1/4" high x 1-3/4" diameter
Handmade in Kenya and fair trade imported.
Salom Artisan Story
Kenya
Salom was established in 1994 by Pauline Ntombura. Pauline grew up in Kisii, a village in southwest Kenya. With an opportunity to move to Cambridge, UK, Pauline started selling handmade soapstone sculptures from Kenya at local stores and boutiques. The demand for these unique sculptures, gave her the inspiration to work with the artisans back in Kenya. Today Salom Enterprises employs about 800 people from Kisii and the coast provinces of Kenya as well as slums in Nairobi, 50% of which are women. Apart from soapstone sculptures, artisans at Shalom make a variety of handmade products such as jewelry and woven baskets.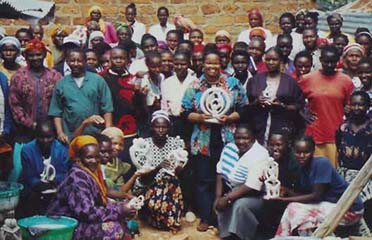 Soapstone sculptures are a signature product by Salom artisans. Soapstone is a naturally occurring and naturally replenishing metamorphic rock. To mine the soapstone, a pit is dug into the ground, no heavy machinery is required for the process. All the pits are refilled after mining, and in 5-10 years the rock begins to reform. A natural and renewable resource, the soapstone is then cut, carved, painted and polished to be made into beautiful sculptures.
Salom has made a large impact in the artisan communities by providing a consistent source of income to more than 1500 households, by selling these handmade products internationally via fair trade markets, craft shows, retailers and wholesalers. Salom Enterprises is a fair wage and ethical trading company, working with the marginalized producers to economically empower them. Shalom has re invested their profits in various community support projects such as building schools and water harvesting systems and health facilities. Not only has Salom enabled producers earn a decent livelihood but has also helped in the betterment of the wider community.